I'm wedged into a corner of the Wild West Saloon in Kalgoorlie, Australia, listening to a couple of investment bankers from Sydney discuss the tight market for Maseratis, when my new pal Ashok Parekh, the saloon's owner, interrupts.

"Hey, Fortune," he shouts over the AC/DC on the jukebox, placing a racquetball-sized piece of raw gold in my hand. "Take a look at this."
Parekh, 51, is a local kid who made good — more precisely, a local of Pakistani descent who was born in Dublin and moved to this mineral-rich part of Western Australia as a teen. By day he runs an accounting firm that keeps the books for hundreds of private gold miners. (Thus the supersized $30,000 nugget, which he bought from a client two years ago.)
But it's his role as the proprietor of the Exchange Hotel, which houses the saloon — he also owns the Palace Hotel and its Gold Bar across the street — that makes
him possibly the most popular man in town.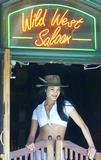 He also has an awesome middle-part haircut, which looks to be modeled on that of Journey singer Steve Perry, circa 1981.
Over his shoulder I spot one of the pub's p()rn-star-tan, bikini-clad waitresses — they're known in these parts as "skimpies" — climbing up on the bar, topless but for her pasties, to perform an evocative and startlingly athletic dance routine. The other half-dozen barmaids on duty have also removed their shirts. (That means the beer pitcher they use to collect tip money must be full again.) With his eyes on the dancer, one of the bankers expresses surprise that so many highly attractive local lasses are interested in serving drinks in nothing but a G-string.

All figures are expressed in Australian dollars unless stated otherwise.
Diggers and Dealers (PDF, 1.8 MB)
"Oh, no," says Parekh, smiling. "I flew in a dozen girls from back east. Yeah, got to have the best this week." Pausing, he gestures at the crowd: "It's all about promoting mateship."
"To mateship!" says the banker, lifting his pint.
This is not just another night in the outback. It happens to be the final evening of debauchery at Diggers & Dealers, the biggest mining conference in the Southern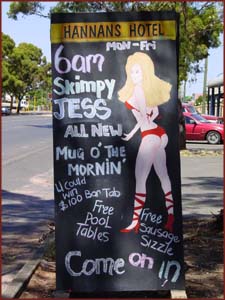 Hemisphere and possibly the rowdiest corporate confab anywhere. For starters, it's in Australia, where quaffing copious amounts of beer is a national pastime. But it's also in Kalgoorlie, one of the few places on this island continent where you might actually see a real-life Crocodile Dundee belly up to the bar.
Tonight at the Exchange are a good many of the mining executives and bankers who run Australia's resource economy, scores of men and a handful of non-"skimpy" women — swilling pints, glancing up at Aussie-rules football on the 20-odd TVs, and trading tales of 10-cent stocks that now trade at $3.
Life is so good for them at the moment that it's a wonder they're not all up dancing on the bar themselves. During the past five years the Australian stock market's benchmark index, the ASX 200, has produced a total return of 170%, reaching new highs regularly this fall. Over the same time span the ASX index of mineral stocks has doubled that performance, returning 340%.
What's driving all this is a mining boom unlike anything this natural-resources-rich country has ever seen. Prices of all kinds of metals have been skyrocketing in recent years — in large part because of increasing demand from China.
Australia is the world's second-largest producer of gold (up 150% in price in the past five years), zinc (up 250%), and uranium (up 750%). It's the third-largest producer of nickel (which has more than tripled in price) and the fifth-largest producer of copper (which has almost quadrupled). In short, it's a good time to be digging stuff out of the ground Down Under.
The Aussies are convinced that the party won't end anytime soon either. Everyone you speak to — from mining executives to government officials to miners themselves — believes that the massive economic growth of China and India will drive unprecedented demand for resources over the next two decades.
If this superboom pans out, the biggest economic opportunity for Australia will probably be in mining a not-so-sexy yet economically crucial commodity: iron ore. The raw material in steel is mined and exported in far greater quantities than nickel and copper and the like. Global iron ore production reached 1.7 billion tons last year, up from one billion in 2000. Australia is the largest exporter of iron ore in the world, and China's insatiable demand for it — to build skyscrapers, cars, and washing machines — is growing faster than analysts can reset their estimates.
The price of iron ore has more than doubled in the past three years, to a benchmark price of $51 a ton, and is projected by analysts to rise 30% or more again next year. The country's two largest producers of the metal, Australian mining giant BHP Billiton (Charts) (with a $230 billion market capitalization) and Anglo-Australian powerhouse Rio Tinto (Charts) ($120 billion), have each pledged billions of dollars to increase production by two or three times over the next five years. (In fact, BHP is so confident about the broader boom that it initiated a takeover bid for Rio in early November.)
The iron rush is no longer confined to giants. A host of smaller companies –virtually all with soaring share prices — are racing to cash in on what has long been BHP and Rio's exclusive turf.
Just a few years ago an independent, or "junior," iron ore miner was virtually unheard-of. Now some 50 companies have entered the iron ore business in Western Australia. Increasingly they are being financed by direct investments from Chinese companies eager to lock up new sources of supply. No less an eminence than Chinese President Hu Jintao stopped in Perth in September to tour an iron ore smelter and other facilities.
On the last day of Diggers, one of the prime beneficiaries of the euphoria flew in and took the town by storm. His name is Andrew Forrest, and he's a high-profile and controversial figure in the Australian resource world. He founded his iron ore company, Fortescue Metals Group, in 2003 and has become a billionaire several times over as his company's stock rocketed over the past year — despite the fact that he has yet to ship an ounce of ore to his customers in China.
In front of a packed house that afternoon, he talked about Fortescue "upsetting the oligarchy" of BHP and Rio and fended off skeptical questions from the press about his ambitious infrastructure-building schedule. At the gala wrap-up dinner, he received the Dealer of the Year award in recognition of the $3 billion in financing he had secured — mostly from U.S. and European investors. And then, inevitably, he hit the Exchange for some celebratory pints with his wife and his executive team, staying out till 1:30 a.m.? Not that Parekh was surprised. "Oh, yeah," he says. "Andrew's a good bloke."
Check out Full article here >> 2 , 3
VIDEO 1 diggers and dealers

[PDF]
File Format: PDF/Adobe Acrobat – View as HTML
Diggers and Dealers Forum August 2007. Sino Gold Shares Growth. Value and. interest in. Sino Gold. is rapidly. growing. Market Capitalisation …
PowerPoint Presentation
[PDF]
VIDEO 2 diggers and dealers
File Format: PDF/Adobe Acrobat – View as HTML
Finally, we will use cash flow from Roseby to fund further growth of the company. UNIVERSAL RESOURCES: Presentation to Diggers & Dealers 9 August 2005 …
www.universalresources.com.au/reports/001DiggersandDealers.pdf
[PDF]
File Format: PDF/Adobe Acrobat – View as HTML
DIGGERS AND DEALERS DRAWS TOGETHER LEADERS FROM MANY AREAS, BRINGING A. VARIETY OF PERSPECTIVES TO YOUR DELIBERATIONS. THERE IS A UNIQUE …
www.premier.wa.gov.au/docs/speeches/DiggersandDealersDinner_070802_FINAL.pdf
FOR MORE GO HERE < google >
~~ Stock Picks and Stuff from JJ ~~