Some tips from the ato website,
A couple of years ago a journalist in a metropolitan newspaper suggested—somewhat tongue-in-cheek—a new Australian holiday celebrating tax time.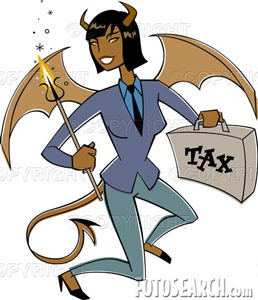 There was no good reason, he said, not to enjoy paying tax.
He even penned some lyrics for a festive song titled Tax Sub Clause is coming to town:
They're making a list, they're checking the lot.
They're going to decide if they audit or not.
For tax time this year we will be paying particular attention to:
investors, particularly

rental properties
dividends and interest
sale of investments
avoiding dodgy tax schemes
saving for retirement

salary packages of executives and directors, and
employees and their work expense claims.
Rental properties
We'll also be writing to some people who have been in the investment property market longer. They have been selected because they have some of the following characteristics:
unusually high claims for rental deductions
low rental income in relation to rental deductions
high claims for interest expenses, and
high claims for borrowing expenses.

EMPLOYEES
They are selected because they have some or all of the following characteristics:
above average claims
a high number within the occupation, or
the ratio of claims is high compared to the salary and wages.
This year we will be specifically looking at claims by:
nurses – particularly claims for self-education
medical practitioners – particularly travel and entertainment expenses, and
chefs – particularly for expenses for travel between home and work, and for pre-vocational courses
Dividends and interest
Investment income and expense is another area where we heavily publicise our datamatching capabilities and remind people not to forget to declare all their interest and dividend income – including income they have earned overseas.
The good news is that pre-filling individual returns and reports to tax agents is anew feature that would make it easier for tax agents doing the tax.
Pre-filling involves fantastic synergy with the banks and other financial institutions and companies who are required to report interest and dividend information to the Tax Office. Many have agreed to lodge their reports earlier so as to improve the comprehensiveness of pre-filling as a winning initiative. As a result, self preparers and tax agents can look up their or their client's dividend and interest details in a jiffy.
Some taxpayers however seem to have switched off.
Last year major audit adjustments were found to be done on points as below
The common adjustments relate to:
car expenses – 1,429 taxpayers have had their claims adjusted by a total value of about $6 million
travel expenses – particularly those claimed by travel agents
self-education expenses – nearly 80% of these cases result in an adjustment – the majority are claiming for the first time
ambit claims for clothing and laundry expenses, and
a range of other claims, such as incorrectly calculated home office, mobile phones and computers involving over 2,000 taxpayers having their returns adjusted by $8.6 million.
We will be expanding our coverage of income tax issues this year. This includes:
sale of assets and investments
foreign source income, and
employer obligations.
And a tip for your business clients with employees – TAX OFFICE checks superannuation responsibilities as well.
~~ Stock Picks and Stuff from JJ ~~